Black pepper.  Have you wondered much about what it is, where it comes from, what nutritional value it has?  Most of us think of black pepper in the shaker or grinder and not much beyond that.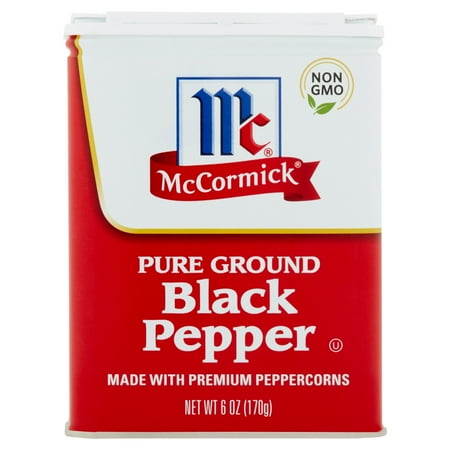 In fact, I remember the day I found out that ground black pepper actually came from peppercorns and I could crack them in the grinder.  (It was a long time ago lol).  I was in a restaurant and the waitress came to the table and asked if I wanted freshly cracked pepper.  I looked at her with a blank stare as if to ask "what do you mean?"  As she cracked the pepper over my salad, I could really taste and smell the freshness and was ruined for anything else.
Black pepper always seemed like salt's tag-along buddy; salt being the more boisterous friend.  But black pepper has some wonderful magic all its own.
The What and Where of Black Pepper
Black pepper comes from the Piperacae family (sounds like papparazzi – sorta), and is not at all like bell pepper, or sweet pepper, chili or jalapeno. In fact they aren't even in the same botanical family.  Black pepper comes from peppercorns;  berries from the blossoms of a trailing, woody vine grown in tropical climates.  Many years ago, black pepper was a sign of a man's wealth.
Nutritional Facts
An ounce of black pepper provides 79% of manganese, 57% of Vitamin K, 45% of iron, 30% fiber.  Although an ounce is way more than we would have at one time, it provides perspective; a teaspoon of black pepper provides 6% of the total manganese we would need in a day.
But here is another fabulous black pepper fact – it has potassium – and I've been writing about potassium a lot lately because it is THAT important to our health.  Potassium is responsible for improving our stomach's ability to digest food.   If you were to look at many supplements on the market, turmeric, for example, you would see that Piper nigrum or Piperine is added.  That is black pepper.  In fact, turmeric which has been touted as a giant superfood, may not be useful at all unless paired with black pepper, because it is not bioavailable, or absorbable.  Black pepper or piperine, increases its absorption. The use of piperine can boost blood levels of curcumin from the spice turmeric by up to 2,000%.  Source
Piperine also increases the body's ability to absorb betacarotenes, selenium and B-vitamins (which, in black pepper means pyridoxine, riboflavin, thiamin and niacin), as well as other nutrients from food.
Black pepper is also a carminative; that is, it keeps the intestines from forming gas.   And when black pepper is freshly cracked from the peppercorn, the outer layer of that pepper corn helps to break down fat stored in the body.   Source
Studies
One study showed that black pepper inhibited the growth of various types of bacteria in the gut, and the report concluded its findings with a statement that black pepper is not only anti-inflammatory, but antioxidant, fever reducing, and immune enhancing.
The free-radical scavenging activity of black pepper and its active ingredients might be helpful in chemoprevention and controlling progression of tumor growth. Additionally, the key alkaloid components of Piper Nigrum, that is, piperine assist in cognitive brain functioning, boost nutrient's absorption and improve gastrointestinal functionality. Source
Black pepper or piperine treatment has also been evidenced to lower lipid peroxidation in vivo and beneficially influence cellular thiol status, antioxidant molecules and antioxidant enzymes in a number of experimental situations of oxidative stress. The most far-reaching attribute of piperine has been its inhibitory influence on enzymatic drug biotransforming reactions in the liver. Source
Piperine had been reported to inhibit tumors formation in different experimental models. Many studies revealed the antitumor activity of piperine by the oral administration. The alcoholic extract of peppercorn and piperine exhibited effective immunomodulatory and antitumor activities. Piperine is also reported to reduce lung cancer by altering lipid peroxidation and by antioxidative protection enzymes activation  Piperine has distinct pharmacological activities along with Anti-cancer activity.  Source
Using Black Pepper for Weight Loss
Because black pepper has the ability to reduce fat in the body, and boost metabolism, you can add this to your healthy diet as you lose weight.  Add 1/2 teaspoon of freshly ground black pepper to boiling water, along with a little ginger, lemon and honey or stevia, and sip as a tea before breakfast.
To low sodium V8, add black pepper to enhance the absorption of all that good potassium.
Add to all your foods, including steak and eggs.
And now, for my favorite way to have black pepper:
2 tablespoons salt
1 pound grass-fed beef or buffalo/bison strip loin
¼ cup peppercorns, crushed roughly
¼ cup butter
1 teaspoon tamari sauce (wheat-free)
2 tablespoons beef stock
2 tablespoons lemon juice
Procedures:
Place peppercorns on a plate and press steak into peppercorns to cover both sides thickly. Work peppercorns into the meat using your hands.
Sprinkle a skillet with the salt and over medium heat, cook until salt begins to brown. Add steak to the pan and brown over high heat. Reduce to medium heat and cook until it reaches the desired degree of doneness, approximately three to four minutes per side for medium-rare. Discard drippings. Note: as much as possible, avoid charring the meat to prevent the formation of carcinogenic chemicals.
In a separate saucepan, combine butter, tamari, beef stock, and lemon juice.
Serve the steak with the sauce on the side.
This recipe makes 3 to 4 servings.
(From Dr. Mercola's No-Grain Diet)
Enjoy black pepper in a whole new way!